The rain has made it nearly impossible to do much the last few days. I was hoping to get more lettuce and spinach in the ground... I also wanted to plant onions and garlic. Instead
I am going to give away some seeds I collected this week!
So, go ahead and post a response to this topic to win! I will be giving away some
Canna Seeds in a deep red
color to the winner. Remember to leave a way for me to contact you! I will draw the winner next Tuesday, October 13th!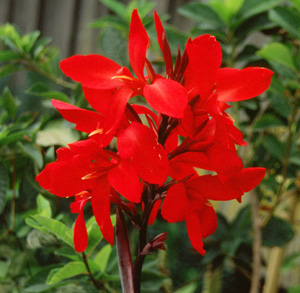 *Suggestion: They do prefer tropical climates, warmth and humidity... if your temps get into freezing and you have an average snowfall over 2-3". I would dig the bulbs up these will later produce and store them inside to replant in spring!*